Sharpness, Mental Acuity and Attention*
Kyolic® Brain Focus is a highly concentrated, pure Ginkgo Biloba Extract in a convenient one-per-day caplet to help improve circulation in the brain, cognitive function and aid in overall focus.* The premium Ginkgo Biloba in Brain Focus is standardized to 24% Ginkgo Flavonglycosides and 6% Terpene lactones, active constituents with antioxidant properties that are attributed to some of Ginkgo Biloba's well documented health benefits.
Take Kyolic® Brain Focus daily to support sharpness, mental acuity and attention.*
---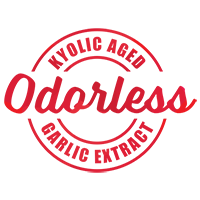 Our exclusive aging process removes the odor and harsh side effects of fresh garlic.