Healthy Inflammation Response*
Kyolic® Aged Garlic Extract™ Curcumin Formula contains 300 mg of AGE and 1000 mg of Meriva® Turmeric Complex per serving, which is a proprietary blend of curcumin and phosphatidylcholine, for a healthy inflammation response (2 capsules; Recommend one serving per day). This proprietary and patented Meriva blend allows for superior absorption and bioavailability compared to other unformulated curcumin extracts. Taken daily this formula provides powerful, natural support for joint function, anti-inflammatory effects, cardiovascular health as well as a variety of other nutritional benefits.
Kyolic AGE is the best-selling, odorless, aged garlic extract. Proven safe and effective, AGE and its constituents have been the subject of over 870 peer-reviewed published scientific papers that document its health benefits.
---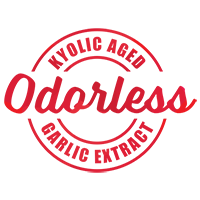 Our exclusive aging process removes the odor and harsh side effects of fresh garlic.