Overall Heart Health*
Kyolic® Aged Garlic Extract™ Formula 100 for Cardiovascular Health contains 600 mg of AGE per serving (2 tablets/capsules; Recommend two servings per day). Taken daily, this original formula supports your cardiovascular system by maintaining circulatory function and overall heart health.*
Kyolic AGE is the best-selling, odorless, aged garlic extract. Proven safe and effective, AGE and its constituents have been the subject of over 870 peer-reviewed published scientific papers that document its health benefits.
---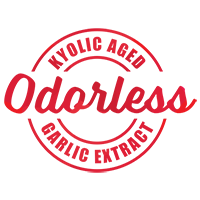 Our exclusive aging process removes the odor and harsh side effects of fresh garlic.

Wakunaga of America's Kyolic Cardiovascular Health Formula 100 has been fully tested by Nutrasource under the IGEN™ Program**.
This product does not contain common GMO/GE genes or proteins.
Wakunaga utilizes Nutrasource for 3rd party quality control testing of its products.
**IGEN™ Certification Mark is a registered trademark of Nutrasource. NON-GMO Gluten Free Sodium Free Yeast Free Soy Free Sugar Free
Kyolic Aged Garlic Extract
Kyolic Aged Garlic Extract begins on certified organic farms in California's Central Valley, where it is grown without the use of chemical fertilizers, herbicides, or pesticides. When fully mature, the garlic is harvested, cleaned, and sliced before being placed in specialized stainless steel containers where it is aged, without heat, for up to 20 months. This proprietary process increases the garlic's antioxidant potential and converts harsh and unstable organosulfur compounds into the odorless, non-irritating, and bioavailable compounds that are responsible for Kyolic's numerous health benefits.
SUGGESTED USE:
Take two tablets/capsules with a meal two times a day. (4 per day)
---
The product packaging you receive may contain additional details or may differ from what is shown on our website.  Please refer to the information included with your product, do not rely solely on the the details shown on this page.
*These statements have not been evaluated by the U.S. Food and Drug Administration. This product is not intended to diagnose, treat, cure or prevent any disease.
A Great Combination
Cynthia Harris
This is a great combination. Will continue to use Kyolic garlic formulas. Thank You
Odorless Garlic
Jeffrey Seymore
Love this Kyolic Garlic. No garlic burps or odor is great. Not sure how well it works keeping vampires away, but will soon find out as Halloween approaches.
It Works!
Alberto Ayala
I give this to my wife, she is type 1 diabetes and her cholesterol for some reason was on the board so by taking this with omega 3. Boom. Just…
Thoroughly Impressed with the Kyolic Brand
Pamela Mclemore
I am thoroughly impressed with the Kyolic brand. So far I'm loving the product. No noticeable garlic burps or garlicky sweat!
Q
We recommend taking our Kyolic products with food, preferably during or right after a meal. With food, the pH of the stomach is less acidic which allows the AGE and its constituents to survive and go into the intestinal tract for absorption.
Q
AGE has demonstrated in numerous clinical studies to support overall cardiovascular health by reducing many risk factors for heart disease (e.g., maintaining healthy coronary arteries, supports healthy blood pressure and cholesterol levels already within normal ranges, enhance circulation, etc.). Our AGE has also been shown in clinical studies to show favorable impact in areas of immune function, gingivitis, stress and gut microbiota.
Q
Our gelatin capsules are bovine (from cows) only which are both Kosher- and Halal-certified.
Q
Our finished products are manufactured in California, USA at our state-of-the-art GMP certified facility. Our Kyolic Liquid product is made from California garlic, and then aged and bottled in Japan, where they have been making it for over 70 years.
Q
The garlic used to make our AGE is organically grown in California, USA, under strictly controlled conditions without the use of chemical fertilizers, herbicides or pesticides.
Q
As with any dietary supplement, results vary from individual to individual. We generally recommend taking the product for one to three months before evaluating.