Memory, Learning & Mental Acuity*
Neuro-Logic®'s exclusive cognitive function formula was designed by David Perlmutter M.D., a Board Certified Neurologist. Aged Garlic Extract is included in a unique formula that he developed to have neuro-protective and neurotrophic effects.* Studies show that Choline (from Lecithin), Ginkgo Biloba, Carnitine, Phosphatidylserine, Folic Acid, Vitamin B12 support healthy neuron and brain function.*
Kyolic Neuro-Logic supports cognitive health to improve memory, learning and mental acuity.
---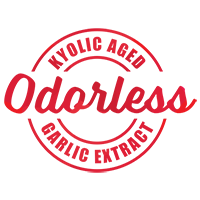 Our exclusive aging process removes the odor and harsh side effects of fresh garlic. Gluten Free Dairy Free Sodium Free Yeast Free No Artificial Color No Artificial Flavor
Neuro-Logic contains Aged Garlic Extract™ [400 mg], Vitamin B12 [100 mcg], Folate [333 mcg DFE (200 mcg as folic acid)], Lecithin [200 mg], Ginkgo Biloba Extract [60 mg], Acetyl-L-Carnitine [25 mg] and Phosphatidylserine [15 mg] per serving (2 capsules).
Contains soy.
SUGGESTED USE:
Take two capsules with a meal two times a day. (4 per day)
---
The product packaging you receive may contain additional details or may differ from what is shown on our website.  Please refer to the information included with your product, do not rely solely on the the details shown on this page.
*These statements have not been evaluated by the U.S. Food and Drug Administration. This product is not intended to diagnose, treat, cure or prevent any disease.
Be the first to leave a review!
Q
Our finished products are manufactured in California, USA at our state-of-the-art GMP certified facility. Our Kyolic Liquid product is made from California garlic, and then aged and bottled in Japan, where they have been making it for over 70 years.
Q
As with any dietary supplement, results vary from individual to individual. We generally recommend taking the product for one to three months before evaluating.
Q
We recommend taking our Kyolic products with food, preferably during or right after a meal. With food, the pH of the stomach is less acidic which allows the AGE and its constituents to survive and go into the intestinal tract for absorption.
Q
AGE has demonstrated in numerous clinical studies to support overall cardiovascular health by reducing many risk factors for heart disease (e.g., maintaining healthy coronary arteries, supports healthy blood pressure and cholesterol levels already within normal ranges, enhance circulation, etc.). Our AGE has also been shown in clinical studies to show favorable impact in areas of immune function, gingivitis, stress and gut microbiota.
Q
Our gelatin capsules are bovine (from cows) only which are both Kosher- and Halal-certified.
Q
The garlic used to make our AGE is organically grown in California, USA, under strictly controlled conditions without the use of chemical fertilizers, herbicides or pesticides.